Gojuryu Karate's Kata is divided into two group.One is the group that has Sanchin at the beginning.Another is the groupe that doesn't have Sanchin at the beginning.Also, if we change our point of view, Gojuryu Karate's Kata is divided into two groups.One is the groupe their name is from number phrase .Another is the groupe their name from animals. These fact mean Chojun Miyagi,the founder of Gojuryu had two or more teachers.


Kata of "GO"(Kata of Hard)
Kata of "JU"(Kata of Soft)
剛の型…打撃系の術技が多い
Strong tendency of striking technique.

柔の型…関節、投げ技系の術技が多い
Strong tendency of throwing techniques and joint techniques
Many name of Kata originates in "Number that has a religious meaning".Number name KATA existed since old time. And Kanryo Higaonna handed down to Chojun Miyagi are only four Number name KATA.
Many name of Kata originates in "Living thing".

SANCHIN
→SAN(3※)+CHIN(combat)
※"SAN(3)" symbolizes the harmony of "Heaven", "Earth", and ""Human being".
TENSYO
TEN(twist)+SYO(palm)
SEIENCHIN→CHIN(combat) of SEI(blue)EN(Hawk)
SAIFA→FA(method) of SAI(Lion)
SESAN→SE(10)+SAN(3)⇒13

SEPAI→SE(10)+PAI(8)
SANSERU→SAN(3)×SE(10)+RU(6)⇒36

SISOUCHIN→CHIN(combat) of SHISOU( Cricket )
※The cricket is a ferocious insect. The traditional game bet on the victory or defeat of cricket's fight exists in a Chinese southern region.
SUPARINPEI→SU(1)×PA(100)+RIN(0)+PEI(8)⇒108


KURURUNFA→FA(method)of KUR(lurk)+RUN(Dragon)
Chojun Miyagi was in the circumstances that he were not able to be talked about his Kata teacher. I think he learned another Kata from Choyu Motobu in the Okinawa Karate Research Club in 1920's.
GEKISAI1, 2, and TENSYO are the creations of MIYAGI.
"13" is a lucky number in Chinese region.And"13,18,36,108" are the figure with a special meaning in Buddhism and Taoism.

These videos did not rehearse and were made by taking a picture once. It is because it is prioritized to open it to the public promptly. Therefore, a dissatisfied video is not few. I want to revise it one by one when getting an opportunity. 動画は短期間での公開を優先し一発勝負で撮影したため不満足な点が多い。機会を得てすみやかに差し替えたい。

---
Hojyo-Undo 補助運動  
Preliminary practice for KATA practice
Traditional, basic practice method of Goju-Ryu Karate. It is practiced to repeat the basis with Tenshin (movement)of Sanchindachi, Zenkutudachi, Nekoashidachi, and Shikodachi. These are basic practices indispensable to learn KATA.
In the practice, pursue neither speed nor the frequency.
Practice deliberately one by one, and confirm correct operation and a muscular usage, how to stand, and posture.
The content is as follows.
①Gyaku-tuki②Keiko-ken-tuki③Age-tuki④Joudan-uke⑤Soto-uke⑥Gedan-harai⑦Kousa-uke⑧Hiki-uke⑨Yoko-hiki-uke⑩Mawashi-uke⑪Osae-uke⑫Sikodachi-gedan-hara
i⑬Nekoashi-tenshin⑭Ura-uke⑮Ko-uke
part1           part2



---
Gojo-ryu Kata

 剛柔流基本型

---
1 Sanchin三戦
Sanchin is indispensable in appropriately conditioning the body for Gojo-ryu. The muscular, skeletal, nervous and respiratory systems are all strengthened by Sanchin.  It is important to be instructed by a Shihan who has acquired and who understands
the correct method.It is said that Gojo-ryu Karate begins with Sanchin and ends with Sanchin.
 

---
2 Tensyo 転掌

Tensyo is principle of Gojo-ryu like as Sanchin. It's rotary motion is the base of the Gojo-ryu combat technique . Thorough training in Sanchin and Tensyo is indispensable in learning true Gojo-ryu. This Kata was created by Chojun Miyagi but was strongly influenced by Okinawan traditional body movements and the "kakufa" kata.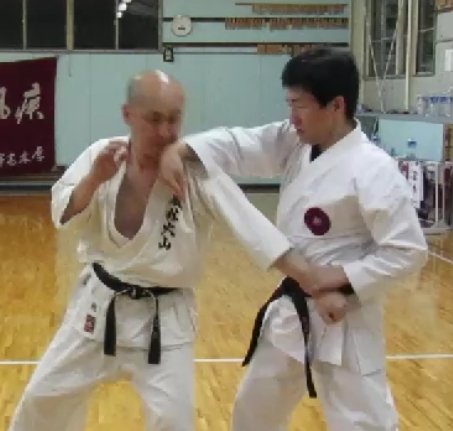 ---
3 Gekisai syodan 撃砕初段

 GEKISAI Kata to learn Goju-ryu for the first time.

Gekisai Syodan was created as a basic Goju-ryu kata by Chojun Miyagi before WWII. Although it is a basic kata, it is not an easy kata to learn. It contains elements of the more senior kata used in Gojo-ryu. Enpi (elbow attack) lets the tip of the elbow cut into vital point "Chikon" of the enemy by using Seiken as Tateken.This kata has "byobugaeshi "as typical throwing technique of Gojuryu. And it also has elements of Suparinpei.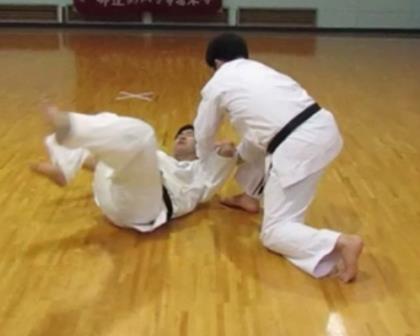 ---
4 Gekisai nidan 撃砕二段
Gekisai nidan is the basic of "Ju(soft)".
"Tora-nage"(tiger throwing technique) ,one of the throwing technique in Bubishi, is seen in the Kata.
Traditionally, Kata Gekisai are Syodan(1) and Nidan(2).
Recently, Gekisai Sandan(3) ~ Godan(5) tends to be created by each sect. So the contents of them are various.
In Yuzenkai,Gekisai sandan(Gekisai 3) is the basic KATA for SAI
Gekisai yodan(4 )and Gekisai godan(5 )are the basic KATA for Tonfa and Kama.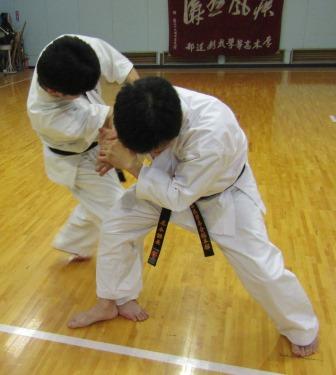 ---
Gekisai sandan(3),yodan(4),godan(5)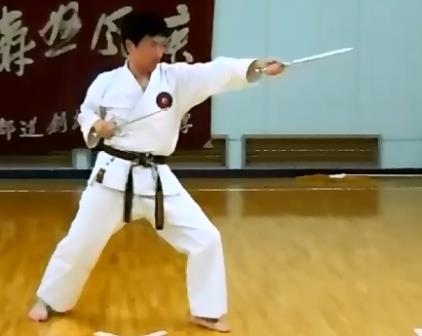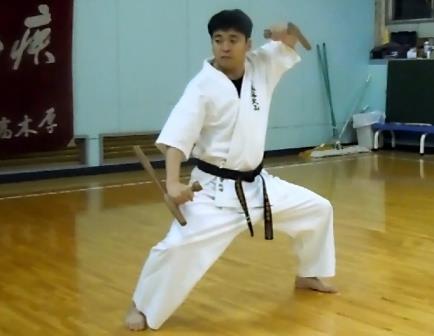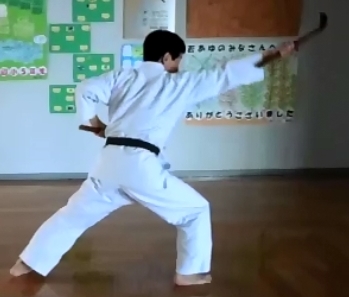 ---
5 Saifa 獅法 (最破)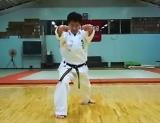 The Kanji " 獅-法 Saifa" means "Lion's combat method."
Of course,a lion does not live in Asia. Lion "獅子 (Sai/Shishi / Shin)" has been imaginational animal in Asia. Then Saifa often be written "最破"(most destroying).But this Kanji is a phonetic equivalent as well as a lot of other KATA names. And this Kata contains a lot of crane movements as well as other Gojuryu Kata".By the way,Yuzenkai's Saifa is different from WKF and JKF.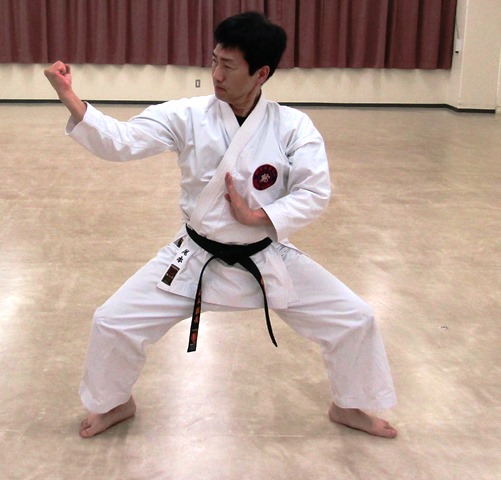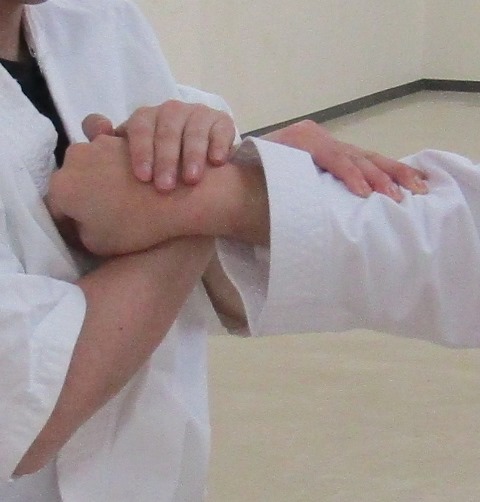 ---
6 Seienchin 青鷹戦 (制遠鎮)(制引戦)


The word " Sei-en-chin (青-鷹-戦) "means "blue- hawk fighting." (Blue means young)
It can also be written as"征遠鎮:enemy far away is defeated. But this Kanji is a phonetic equivalent as well as a lot of other KATA names.(This is the name made according to a belligerent tendency to Japan at that time.) Kata "Fist of golden hawk" exist in Taiwan.
This kata does not use the kick operation at all. It's feature as first is the handgrips. And this Kata moves in every direction quickly by using shiko-dachi .This is the important kata as basic.
By the way,this Kata has been utilized from ancient times as basic kata of "SAI".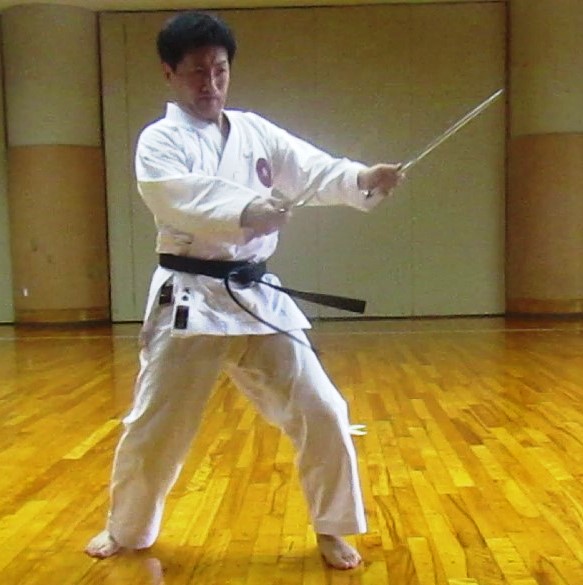 ---
7 Sanseru 三十六 (36)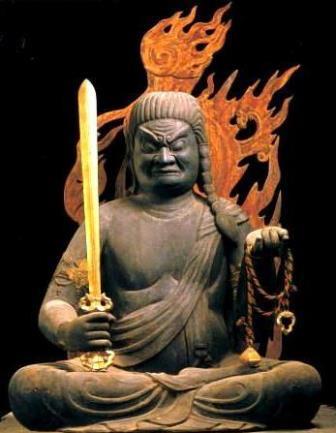 In the oriental philosophy, the "36" is the number which means the mystely in nature. For instance, in the Buddhism, the Fudo-myo-ou(Gurdean for Buddha) has 36 strongest subor dinates.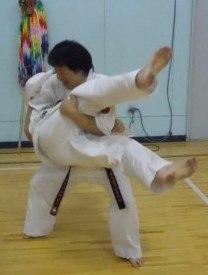 ---
8 Sisouchin蟋蟀戦 (志荘鎮)(四向戦)
The original meaning of Sisou-chin蟋蟀-戦 is "Cricket-fighting".
The game (gamble)which two crickets' males fight has the 1200year history in China.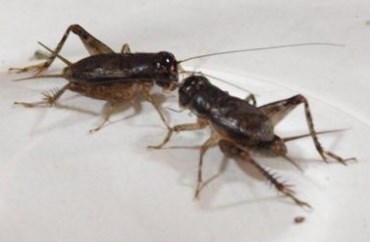 This kata is often written the Kanji"四向戦". This Kanji is a phonetic equivalent as well as a lot of other KATA . This kata features the technique for escaping from tightened by enemy .We should note that some movement looks the attack to behind enemy means the attack to front enemy , and that the Empi means the art of throwing.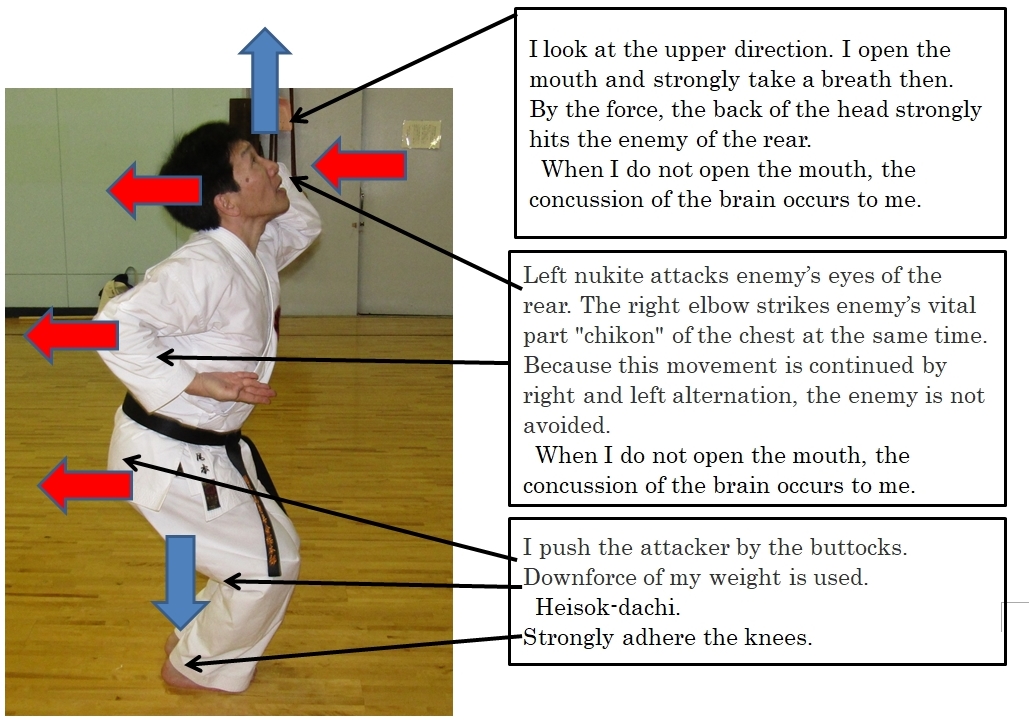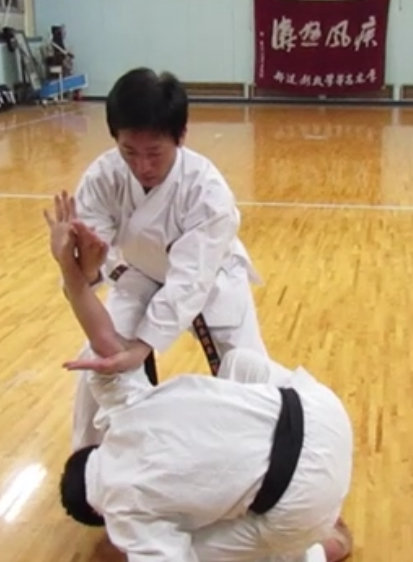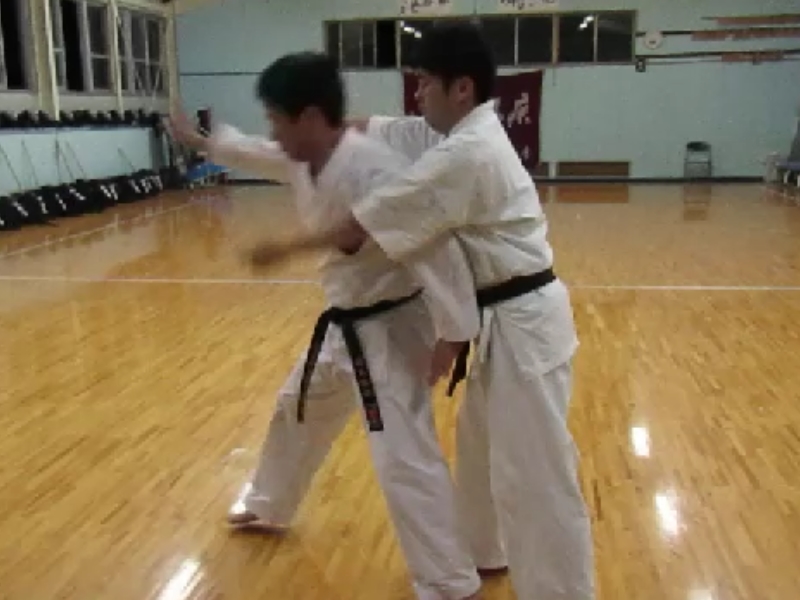 9 Sesan 十三 (13)
The original meaning of the十三 is " 13".
The word is not a simplely meaning "the 13 techniques".
In the oriental philosophy, the "13" is a mystical number.
For instance, the number of Buddha who represents the Buddhism is 13.This kata demands the most strongest power tsuki and keri. This Kata has a lot of secrets techniques. There are lots of different kata named Sesan in Okinawa and China.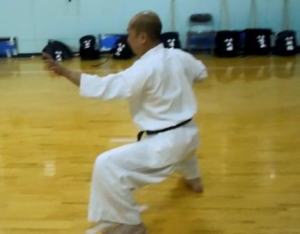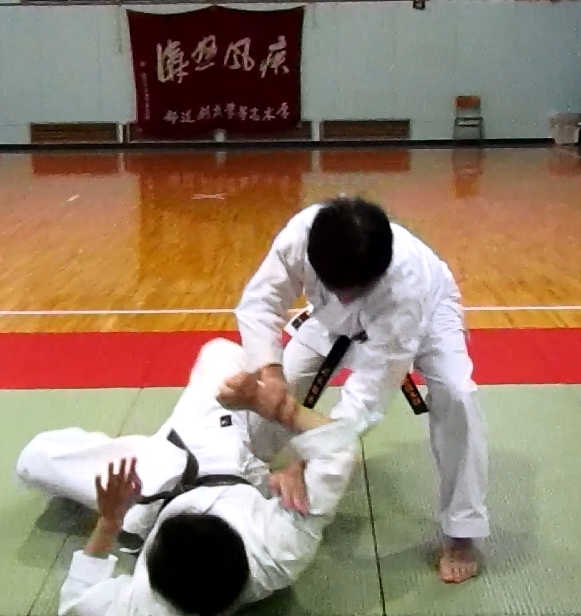 ---
10 Sepai 十八(18)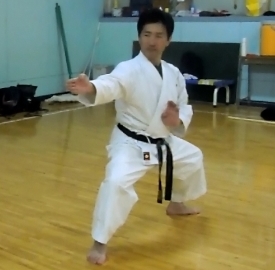 The original meaning of the 十八 is " 18".
But the word is not simply meaning "18 techniques". In the oriental philosophy, the "18" also is the mystical number.There are Karate Kata with number name that are multiples of 18, such as36 and 108 . This kata is filled with peculiar operations
and beautiful form .It also has various secrets included.
This Kata contains a lot of dragon movements as well as "Kururunfa".
By the way,Yuzenkai's Saifa is different from WKF and JKF.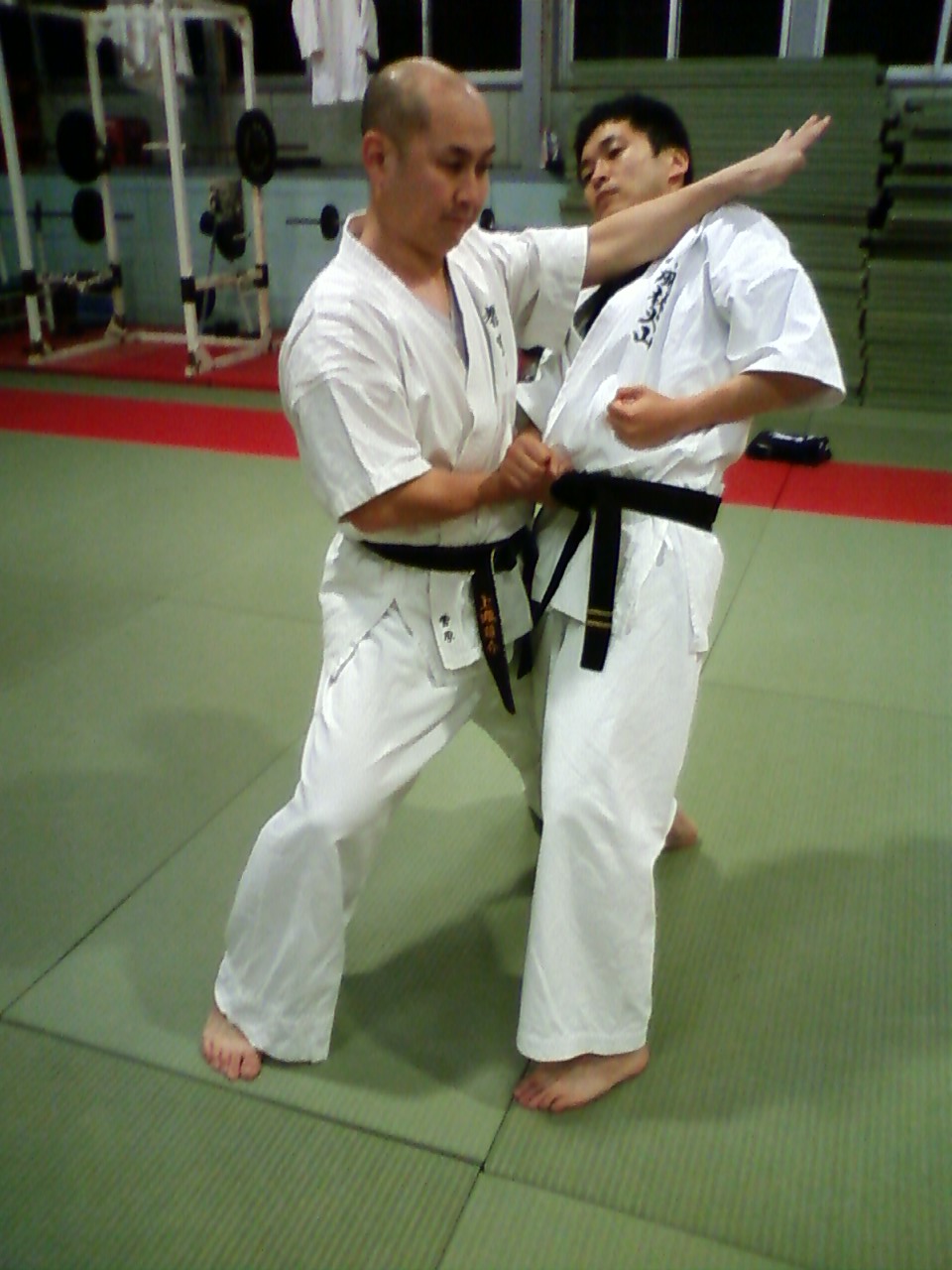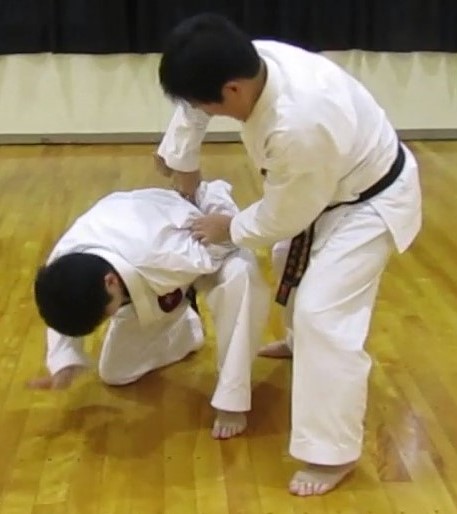 ---
11 Kururunfa 臥龍法
The original meaning of 臥-龍-法"Kuru-run-fa" is "dragon fight method."臥-龍:Kuru-run"is the "Dragon taking a stance low " in translating literally.It is ,in a word, a dragon in the attack mode. Crawls and Barks of Dragon can be seen in this kata. This Kata has more Joint technique and throwing than Sepei.
This Kata often is written the Kabji"来留破".
But this Kanji is a phonetic equivalent as well as other KATA .
Yuzenkai's Kururunfa is different from WKF and JKF.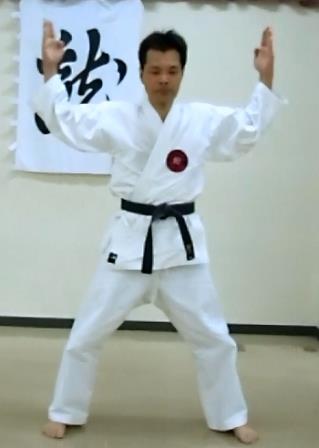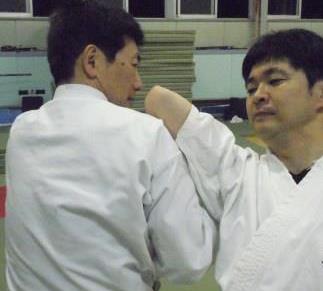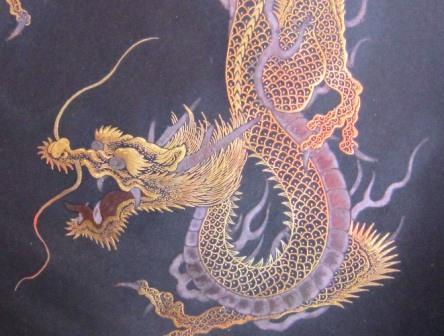 ---
12 Suparinpei 一百零八 (108) 
The original meaning of the 一百零八 is " 108".
This number has the meaning "infinity". So this Kata is called the compilation kata of Goju-ryu.
There are Shihan who taught that the alias of Suparenpei is Bettyurin, but this is no accurate. There are some similarities .But there is many difference in the operations in the latter half of the Kata. And especially, the point that methods of respiration of Sanchin are different.
It as be testified that Bettyurin, Higaonna Kanryo taught Kyoda Juhatsu, is not the today's Gojuryu Suparinpei.
Miyagi Chojun incorporated a lot of changes to the creation of Suparinpei.
By the way,108 is a multiple of 18 and 36.
The Buddhism explains that human has the evil passion of 108, and eliminatingthem is a purpose of the life.
So "108" is also the name given to highest Kata of the each Syaolin Kunfu sect in China.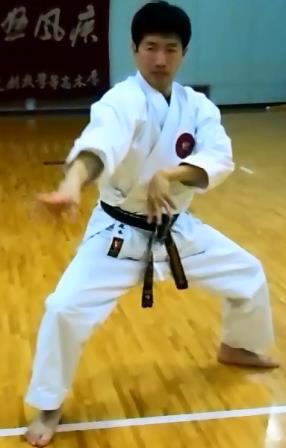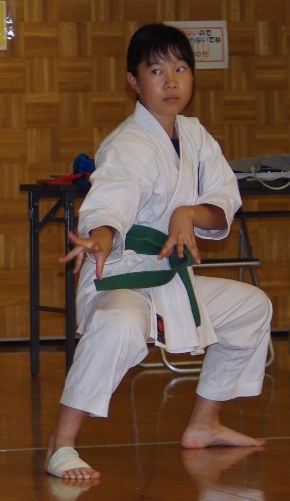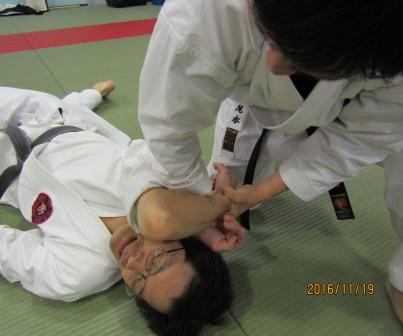 ---
Bettyurin 百歩連   / Kakufa鶴法   /

Douwai

羅漢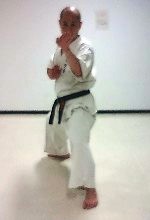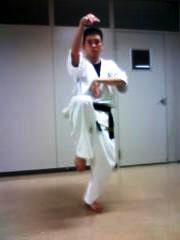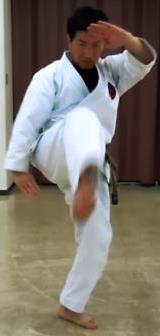 ---
★

For your reference

1
Heian syodan平安初段/Heian nidan 二段/平安三段 sandan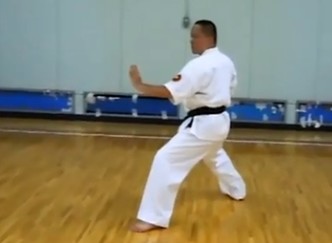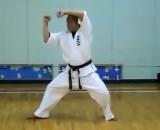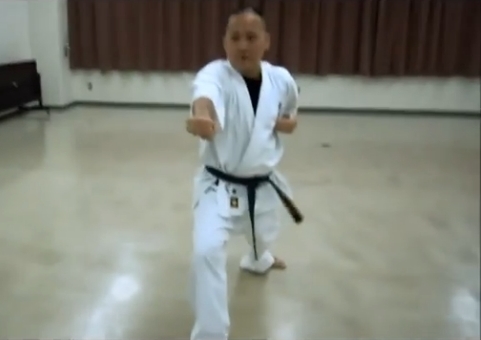 ---
Heian yodan 四段    / Heian godan 五段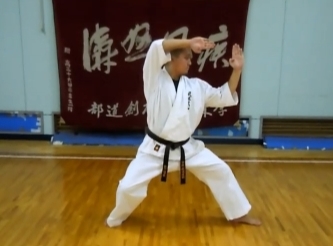 .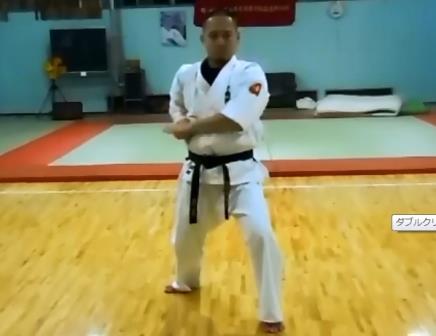 ---
★

For your reference

2
Syuushi no kon syodan 周氏の棍 初段
"Bou " is a basis of all Ryukyu Kobudo:Karate weapon.
"Syusi no kon" is a basis of all Bou jutsu. "Kon" is another name
of "Bou", and the meaning of stick. The length is 180 generally
cm, and the material is wicks of the oak or the willow.
It can be said that it is common sense of Karate-ka to learn Kata of some Bou jutsu.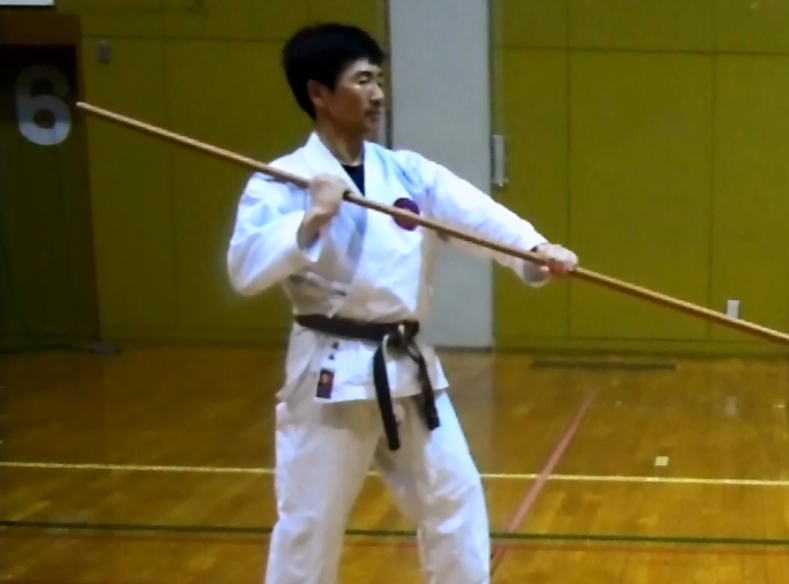 ---
Syuushi no kon nidan 周氏の棍 二段
"Syu-shi" means "Mr.Syu". Because "Kon" is an alias of "Bou", this Kata's name means "Bou of Mr.Syu".
Syu was a trading merchant in Naha in 19th century and came from Shanghai, China.He also was an expert of martial arts. This Kata has some varieties.Yuzenkai arranges the Kata to "Syushi no Kon syodan" and "Syushi no kon nidan".


---
Hamahiga no tonfa 浜比嘉のトンファ 
It is said that Tonfa is the weapon which evolved from the steering wheel of the stone mill. "Hamahiga no Tonfa" (Tonfa in Hamahiga island) assumes the fight with four enemies of the all around.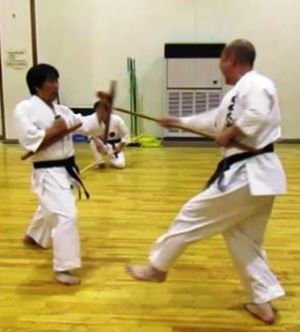 ---
Choun no kon 趙雲の棍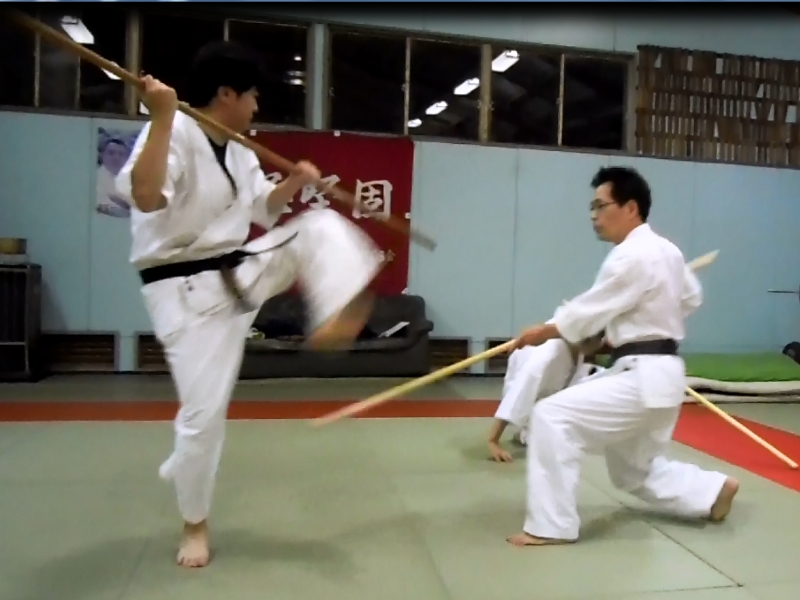 ---


List of Yuzenkai Kobudo
Sakugawa no kon 佐久川の棍
Sisi no Kon 添石の棍
Yaragua no tonfa 屋良小のトンファ
Nunti ヌンティ(貫手)
Tawada no sai  多和田の釵
Matsumura no sai 松村の釵
Matayoshi no kama 又吉の鎌
Kanekawa no kama 鐘川の鎌
Tozan no kama 当山の二丁鎌
Kyuten no nunchaku 九天のヌンチャク