Goju ryu honbu dojo Venezuela yuzenkai  


Sensei Williams Jose Aguana Rivas


ベネズエラ勇善会代表 
ウィリアムス・ホセ・アグアナ・リバス師範


location:Santa

Teresa

del

Tuy.

Edo.

Miranda.

Venezuela


所在地:ベネズエラ、ミランダ州インデペンデンシア市サンタ・テレサ・デル・トゥイ 町
e-mail: Hiroshima_kai1@hotmail.com

Sensei Williams Jose Aguana Rivas(3rd dan)has his dojo"Hiroshima kai" and is the secretary of the Venezuelan Association of Goju ryu.
Venezuela at this time this going through a very strong moment an economic blockade where it is almost impossible exchange and international convention.He joined GIKKU -Yuzenkai to integrate divided Gojuryu in the Venezuelan society which remarkable developed by teaching the inheritance of tradition of Miyagi Cyojun.
Sensei Williams Jose Aguana Rivas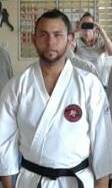 ウィリアム・オーガナ師範は剛柔流三段。ヒロシマ・カイ道場を経営するとともにベネズエラ剛柔流協会の事務局長である。
急激に変化するベネズエラ社会において、宮城長順の伝統が薄れて分裂していく剛柔流を古い伝統技を教授することで再統合させるべく勇善会に加盟し、そのベネズエラ代表に就いた。写真で見る彼らの稽古はとても伝統的で実戦的だ。このような光景は日本では見られなくなりつつある。未来ある若き指導者の今後の活躍が楽しみである。