Branch chief

Sihan
Ram Chandra Subedi
 ネパール勇善会支部長 ラム・チャンドラ・シュベディ師範
Dojo: Address:
Kohalpur-12, Banke, Nepal
e-
mail
:

gojuryunepal@gmail.com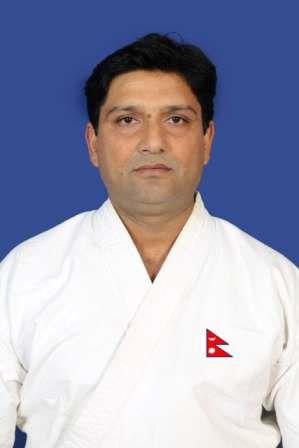 Shihan

Ram Chandra Subedi

,Gojuryu 5'td Dan, is one of the founders of Gojuryu Karate in Nepal and he has 10 dojos under him where his direct students provide trainings. He usually, provide training in Kohalpur Regional Headquarter Dojo. But, he frequently visit other branch dojos for training and belt promotions.
The Gojuryu society in Nepal has some political problems. And more Gojuryu has competition with Shitoryu, Wadoryu and Shotokan. So, he needs an international Gojuryu Karate Federation that can help them in technical matters whom they can feel proud upon. And he decided to cooperate with Yuzenkai for giving to his students a good and respected future. National Gojuryu Karate Do Association.

In

May, 2016

,

he

established

Nepal Gojuryu Karate Do Association YUZENKAI

by

the

national

request

.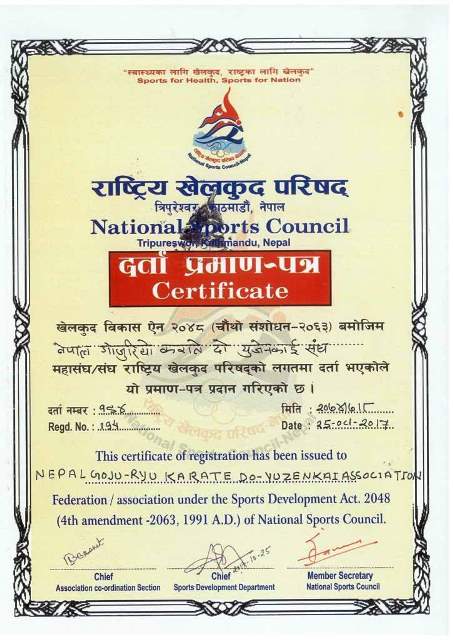 ラム・チャンドラ・シュベディ師範は剛柔流五段。ネパールGojuryu空手界の創設者のひとりで国内に10の道場を持つ。そして コールパープルの本部道場を拠点として各道場を指導と審査のため巡回指導している。ネパールには内戦や少年兵問題があり、子どもたちは決して平和の中を生きてはいない。空手界も剛柔流、糸東流、和道流、松濤館流間の激しい競争がある。シュベディ師範はネパールの剛柔流界を技術的に統一し、生徒たちが所属することに誇りを感じる団体の構成員となるために勇善会に加盟しネパール剛柔流空手道協会勇善会を設立した。
 On October25 2017,Nepal Gojuryu Karate Do Association YUZENKAI has been registered under National Sports Council which is the supreme government sports authority of Nepal. The Nepal National Sports Council wants to regulate all Gojuryu organizations through Yuzenkai Nepal

 そして同協会は2017年10月25日、ネパールスポーツ振興法に基づいて同国の国家スポーツ審議会よりネパール国内の剛柔流を総括する組織として認証された。




The first national elections of Nepal Gojuryu Karate Do Association YUZENKAI held on 17th August 2018.
 それにより2018年8月17日に首都カトマンズに全国から各会派の代表が集まり、ネパール剛柔流空手道協会勇善会に参加するとともに同協会の会長選挙を行うが、シュベディ支部長が選出されることは言うまでもない。勇善会が一国の代表権を得た意義は大変大きく名誉なことである。