インドネシア勇善会Indonesia YUZENKAI Brabch Chief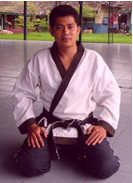 Dojo: Address: Jln. Karya Bakti Kampus UISU Medan.
Shihan Hari Irawanハリ イルワン師範 
e-mail:hari.irawan@yahoo.co.id
" Shihan Hari Irawan's Dojos are in any province and has member Black Belt
to teach some school and Club.
He used Goju Ryu style with 12 Kata Original and also following Championshipin Indonesia and other country.
(6th DAN from Okinawa Gojju ryu Karatedo Federation.)
He has about 500 students include Balck Belt.
Shihan has affiliated with G.I.K.K.U to be part family from Yuzenkai and establish Yuzenkai in Indonesia,to get knowledge for deeply about Goju ryu, to be young generation to grow principle Goju Ryu,and to make relationship & cooperate with Japan as Centre of Karate (Goju Ryu).