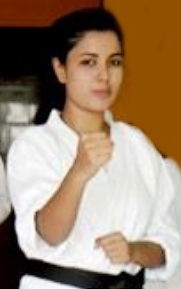 Shihan Lubiana Ahmed is a certified black belt from Yuzenkai Japan andDiploma in master level hatha yoga. Since she was just a child, she hadalways been fascinated by martial arts. One day, when she found out thather school was offering Karate, Lubiana immediately signed up for it.
She has participated in many competitions and brought gold and silver medals home from competitions such as South Asian Cup, Third Intercontinental Asia WUKF Championship and Nepal-Bangladesh Friendship Karate Open Championship.She won four gold medals in four categories in the 11th All Bangladesh Milk Vita Dragon Karate Open Championship. She went on to teach karate and fitness at the American Club, International Turkish Hope School and
DPS STS School in Dhaka.Eventually, Shihan Lubiana set up her own Karate school named 'Horde Karate Academy' in 2012. At first people were not cooperative or helpful at all.Shestarted with only 5 students. Because of her gender and young age, theywere apprehensive of giving her a chance of opening a school; there were times when many people de-motivated her to follow her dreams and there
were no appreciation at all just because she was a girl. While that happened, she also had to keep her school grades up along with running her own school.
Shihan Lubiana never gave up. She eventually found the ideal and the most suitable place for her school.She is passionate about enabling others, especially girls, with physical and mental training so that they can protect themselves out in the streets. Women empowerment is also a mission for Horde academy. She believes that when people feel confident, it empowers them to live with less fear and more freedom. Self-defence techniques have enabled Shihan Lubiana to help many people at times. She encourages girls to rise above all situations and negativities. She also provides free self-defence training classes for girls. She says, "Never stop following your dreams. Be determined
and be strong."Now she have more than 40 students. She want to spread the teaching of karate in Bangladesh so that people learn to be more confident, physically and mentally fit. I believe the development of her foresight in Bangladesh.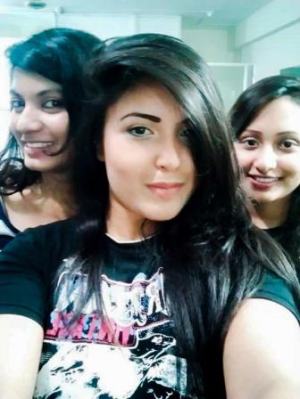 ルビアナ・ハーム師範は剛柔流三段。
空手は男の武道という意識の強固なバングラデシュで初の本格的な女性の空手師範である。8歳の時に空手を始め大学時代には二つのアジア大会で金メダルと銀メダルに輝いた。2012年1月、アーム師範は5名の生徒とともに道場活動をスタート。現在40名で、さらにバングラデシュ全土への普及をめざす。法と秩序という点でまだ安全と言えないバングラデシュでは、女性の自己防衛が必要だからだ。彼女は、女性が自分自身を守ることができるように身体的精神的な訓練を施し、経済的事情のある者には無料講座を提供するなど志に燃えている。 
 師範は二十代前半という若さにして有名なトータル・ビューティシャンである。独自ブランド「ルビアナス」を展開する実業家であり、「ルビアナ・ビューティーケア・アンド・フィットネス」のオーナー経営者でもあり、優れたフィッネス・トレーナーでもある。八面六臂の活躍をする若き師範の未来がたいへん楽しみである。
Shihan Lubiana Ahmed is also a great beautician and is a owner-manager of"Lubiana´s Beauty Care & Fitness".
And

she is also an excellent fitness trainer

.



Dojo: Address:
House#34, sonargon jonopoth road, sector:11, Uttara,1229,Dhaka,Bangladesh
e-mail
:

lubianaa@yahoo.com